Filmmaker Jacob Redman made last year's Future Format shortlist for his film Subversive. Shot on a smartphone, his film is a portrait of Bob Morse, an American artist living in a disused winery in Davejean in the South of France. Redman shows how Morse's creativity expresses itself freely in many different forms. We interview the filmmaker to discover how his filmmaking has been developing since his time at Sony Pictures Studios in February.
Your film Subversive puts Bob Morse, an American artist, in the spotlight. Threaded throughout your five-minute film is the value of art and how important it is for us to live rather than just exist. How did you meet Bob?
I met Bob at a party. He was dressed up as a fierce pirate, with leather boots and old pans hanging from his hips instead of the usual sword. He was loud and exuberant, and I loved him! We talked about his art and where he was living. 
Why did you choose to shoot your short film on a smartphone? 
I wanted to test out the new ProRes on the iPhone and see what I could do with it in (terms of color, light and grading), in post. I saw online a challenge from Zhiyun to make films with a smartphone, it gave me a framework: four minutes to make the best mini-doc possible over a weekend. I have also been using smartphones in film workshops that I run because I believe that it is amazing to be able to create a film with a simple phone that you can put in a pocket. It can give access to anyone to create a film. Sometimes we tell ourselves that we don't have the right gear or equipment to make that film. So I wanted to inspire others (mainly my students) that it is possible to shoot a powerful film using only a smartphone. 
 
The Future Format category is back for this year's edition. What are some of the creative benefits of shooting a short film on a smartphone?
The real benefit of filming with a smartphone versus a film camera is the flexibility of framing that it can offer. The small size of the camera allows you to place it almost anywhere, which can lead to more creative and interesting shots. Another benefit is that large film cameras can be intimidating to some people, which can lead to a loss of spontaneity. With a smartphone, I find that it's easier to film people and capture their natural selves. Smartphones are also relatively easy to use, even for people with no prior filmmaking experience. This can make the process of shooting and editing a short film more accessible and enjoyable.
 
What have you been up to creatively since you were in Los Angeles for the Sony Future Filmmaker Awards? 
Since February, I've finished another short film, Sem la Beluga (We Are the Spark) - you'll find a teaser above. It's an intimate and authentic film about bushfires and flora in response to climate change, inspired by my six-week residency in the Massif de Fontfroide. The film features the voices of local artists, firefighters, scientists, and poets in Occitan, highlighting the birth of fire and the return of vegetation in the scrubland.
 
I've also written my next feature documentary, a portrait of Pierre Yves, a chef in a middle school canteen in Aude who has decided to turn his back on industrially prepared meals and offer local and organic food to students in an approach to education and health. I've also made a short pilot for this film, which can be viewed above.
Finally, I've continued to work for the non-profit organization KOVisuel, making short films and photos on environmental issues, and social justice, and promoting art and local culture. You can find out more here.
Looking at your YouTube channel, music seems a big influence on the films you create. Can you tell us how your connection with music started and why it's threaded into quite a few of your films? 
I've been connected to artists my whole life. My mother is a painter and my father is an experimental video artist, so I grew up with musicians, photographers, poets, and artists in general. When I grew up and became a professional filmmaker, it was only natural for me to create teasers, video clips, and promotional videos for local musicians and artists. My first feature documentary, Des Couacs et des Poëtes, is a film about a non-professional brass band exploring the importance of music and friendship in our society. For my most recent film, Sem la Beluga, I worked with the composer Laurent Cavalié to score a piece of music with natural objects, such as branches, seeds, and leaves. I love adding soundscapes, rhythm, and music to my films to create emotional impact and additional meaning.
 
What stood out to you most during your time at Sony Pictures Studios for the Sony Future Filmmaker Awards? 
I had the privilege of attending the Sony Future Filmmaker Awards in 2023, and it was an incredible experience. What stood out to me most was the sense of community and support among the filmmakers. Everyone was so passionate about their work and eager to learn from each other.
During the two-day workshop, we had the opportunity to participate in a variety of sessions, including:
Masterclasses with industry professionals: We learned from leading producers and executives about all aspects of the filmmaking process, from development to post-production.

Hands-on workshops: We had the chance to work with state-of-the-art equipment.

Networking events: We had the opportunity to meet Sony Executives.
Is there anything you've learned about your filmmaking since your experience at Sony Pictures Studios?
Since last February, I've learned the importance of collaboration in the film industry. I applied for grants to finance my next feature documentary proposal, but I was unsuccessful. This experience taught me the value of listening to and trusting the advice of other talented people, while still staying true to my own vision. I've also learned to trust my instincts and go with my gut. Writing a good screenplay is a long process, but I'm confident that I'll eventually be successful.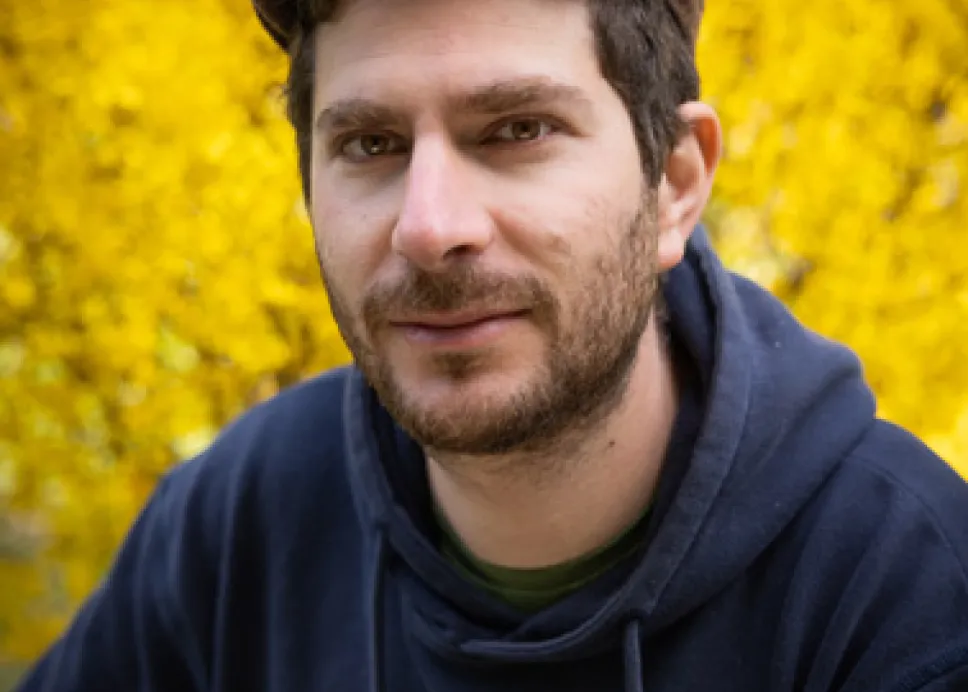 About Jacob
Jacob Redman is a director and photographer. In 2007, he joined the InsightShare team, a world leader in participatory video, and specialized as an editor. At the same time, he graduated in Digital Film Art from the University for the Creative Arts (UK) and became passionate about photography. After moving back to the south of France in 2012, he became Head of the Audiovisual Center for the GRAPh-CMI in Carcassonne and teaches for the Photojournalism and Transmedia DU. In 2016, together with others he encouraged the creation of KOVisuel, an association of audiovisual and photographic production and image education centered around social, cultural and environmental themes. Between 2017 and 2019, he directed his first feature documentary Des Couacs et des Poètes. In 2021, during a territory residency, he refined his gaze with the País de flors project, in which he photographed and filmed the Pyrenean flora. Recently, he has made short video portraits, such as The French Cowboy, which won 1st Documentary Prize at Røde Reel Festival, and Subversive.