Alisha Mehra was shortlisted in the Student Fiction category in last year's Sony Future Filmmaker Awards. Studying filmmaking at Swinburne University of Technology in Australia, Alisha's film Match Point tells the story of two first-generation Australians competing against each other at the annual badminton competition. One fights for recognition, and the other for the prize money. We find out Alisha's influences, how she found being a director on set and what she found the most valuable experience during her time at Sony Pictures Studios. 
Why did you decide you study filmmaking at university?
I decided from an early age that I wanted to follow in the footsteps of my uncle who is an extremely talented filmmaker. I loved the way he told stories and admired his visual style. Initially, I wanted to channel that creativity through acting, so pursued drama and media studies in high school. Then one day in media class we had to create a short film and I thoroughly enjoyed bringing my imagination to life. There's a different feeling when being able to touch other people's lives through the medium of film. I realized that my true passion was being behind the camera, just like my uncle, and so I decided to follow that dream at university. 
You were shortlisted in last year's Sony Future Filmmaker Awards for your short film Match Point. You had more than 80 members in your cast and crew. What was it like to direct that number of people?
It was my first time directing so I certainly felt a lot of pressure. When on set there are a lot of thinking hats you need as a director on, everywhere you look there's someone who needs something from you, and you're always giving 110% of yourself to the project. It was definitely very challenging having to be constantly 'on' and that's when needing to be organized played a big part. 
That rewarding feeling though when things started to flow was worth it, especially when I realised how many people were behind my idea and were excited to be part of my vision. I was extremely fortunate to have such a beautiful and respectful cast and crew. Everyone was as passionate as I was about my story and what I was trying to achieve. By the time we got to the shoot all I had to do was focus on my actors and the rest just came together naturally. My heads of departments were super organized and I found that I really didn't need to say or do much, they made things happen quickly and efficiently. That solid teamwork and foundation of trust we had in each other made the process much easier. I'm very thankful to my team for their support, hard work and most importantly believing in Match Point. 
 
Was there any scene in the film that was particularly challenging to shoot? How did you overcome that challenge?
We always knew the action shots in Match Point were going to be the trickiest to shoot. We had to shoot within a tight time frame when on the badminton courts, and the technical components took months of experimenting and research. We contacted Eric Yeong, the cinematographer of Tenges Bee's Lee Chong Wei (2018), to see how we could scale down their approach to the badminton match for our own film. One of the main challenges was working around how unpredictable the birdie could be and determining where the camera needed to stand in order to capture a particular hit that would ramp up the tension in the scene. 
I spent hours watching men's singles matches and crafted a choreography based on one of Lee Chong Wei and Lin Dan's matches. Then with the help of Badminton Victoria, we were able to train our actors with dual Australian Olympian, Ross Smith for a few months to practice that choreography. All of these preparatory steps made it a little easier to make the action work in our favor. 
What advice would you give to student filmmakers about creating their first film?
You need to work with people who will raise everyone up and are faithful to the director's intentions. Being a student filmmaker can be scary because there's so much to learn and that's when having a supportive team comes in handy. People who will be there to help nurture your growth and are interested in growing themselves. Making mistakes is part of the process - even if the first film feels like a complete train wreck, it'll be the journey that shapes you, your team that encourages you and your passion for the idea that drives you to try again. 
 
What projects are you currently working on?
I have been a very busy bee this year. I spent a few months in Brisbane working for a production company as a producer's assistant and am now working remotely for them from my hometown in Melbourne as their production slate increases. It's been amazing learning the ropes of working with distributors and financiers in the industry and honing my skills in script coverage. I have multiple projects in development of my own which are scheduled to begin pre-production in the new year. Most excitingly I will be travelling to India soon to collaborate with my uncle on a feature film. I'm really looking forward to stepping into a new role, expanding my skill set with someone I look up to so much and bringing those experiences back to my projects here in Australia. 
 
What stood out to you most during your time at Sony Pictures Studios for the Sony Future Filmmaker Awards?
The workshops were really invaluable. I left really inspired and invigorated. Everyone knows this industry is difficult to crack into and there's a lot of hardship involved, but to hear so much encouragement and advice from the top executives at Sony Pictures with all their years of experience made me feel really encouraged to keep following this dream and hopefully work beside them one day. I still refer back to my notes from the workshops when I'm working on my projects, it's a great resource. 
What would you say to any students thinking about entering the Sony Future Filmmaker Awards, do you have any advice to help their entry stand out? 
Absolutely go for it! The experience is so fun, you get to meet people from all over the world and potentially people you will work with in the future. You want to make sure that the audience can feel your heart in your film - a passionate message that can touch the judges will give you a great competitive edge.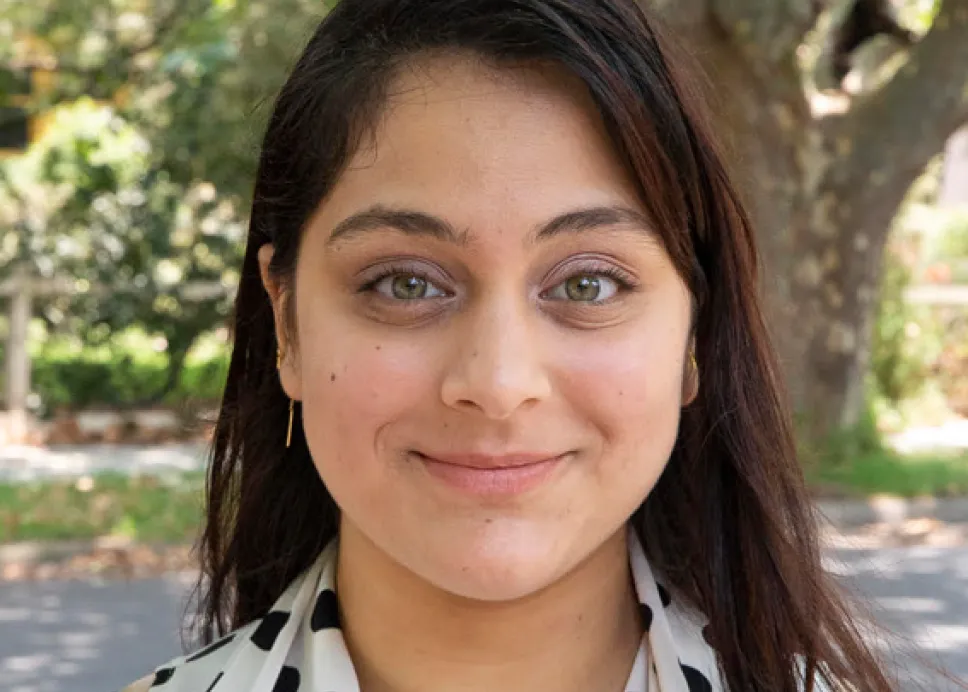 About Alisha
Alisha Mehra is a filmmaker who believes in empowering others through storytelling. Taking inspiration from her own life, she strives to create stories that will ignite positive discourse and shed light on the diasporic experience.